We love baking. At Brownie Point, we are passionate about desserts and the smiles we earn when our customers indulge in our freshly baked mouthwatering cakes & desserts.

Everyday, we make hundreds of customers fall in love with our unique flavors. Our cakes grace occasions and become catalysts for people expressing themselves. Established in 1997, Brownie Point has grown to create a brand following. Our outlets showcase the range of our desserts and we deliver all over the city. We have our loyal customers from individuals to corporates. Today, all three Brownie Point outlets in Dubai are considered the perfect choice when it comes to delectable, unique and beautifully crafted desserts.
We don't just add sugar, cream and everything sweet, but also a whole of love in every bit of food we conjure. At Brownie Point what you taste is not just dessert- what you taste is love and celebration guised as freshly made, delicious confectionaries.
Brownie Point not only makes most delectable, rare and satisfying desserts but it does so with utmost consideration to the customer and his reason to celebrate. So when you order something from Brownie Point, you aren't just getting a dessert, you get a new reason to smile, a new way to celebrate and new means to spread love.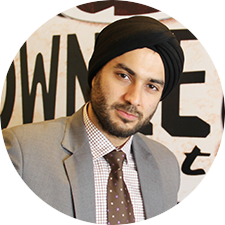 RAJBIR KOHLI
Rajbir Kohli graduated with a degree in business administration from the USA. Being an ex corporate banker, Rajbir has steered the company's exponential growth and harnessed it as a leading culinary brand in the UAE region. His experience as a thorough business professional and distinct attention to detail has made him well versed with the nuts & bolts of his business. He presently overlooks the Finance, HR & Business expansion areas of the business.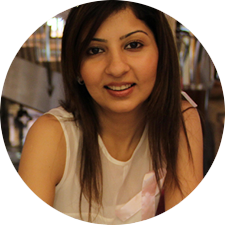 REENA KOHLI
Reena Kohli's story includes the undying and passionate love for baking. She harnessed her talent with a couple of culinary and pastry making courses and laid the founding bricks of the company With a degree in business administration and the thorough zest for baking the finest desserts, she currently overseas the retail operations and product innovation.
THE CHEF & PARTNER MANISH KHANNA
Chef Manish Khanna graduated out of IHM Mumbai with a dream to make a name for himself and carve a niche for his love for good food. His passion for various forms of desserts from across the world led him to culinary training in Pastry & Desserts at Taj Hotel and Searock Sheraton Hotel in Mumbai and later got him a place as Pastry Chef with the Oberoi Group of Hotels and The Leela.
Chef Manish travelled across USA, Malaysia, Veitnam training under world renowned chefs about the nitty-gritties of cake decoration, icing and sugar paste work. After an extensive experience gathered woking with Michelin starred chef VikasKhanna and with Sugarcraft India, he finally decided to go solo and start his independent venture, Brownie Point, in 1997.
Brownie Point was a first of its kind dessert place, which specialized in all kinds of brownies, cake decoration and custom made cakes, on a commercial scale. What started as just a cozy outlet in Mumbai, is now a well-known franchise with 19 outlets across India. Brownie Point entered the international market in 2010 with its first outlet in Dubai, pioneered by Rajbir & Reena Kohli. Today, all three Brownie Point outlets in Dubai are considered the perfect choice when it comes to delectable, unique and beautifully crafted desserts.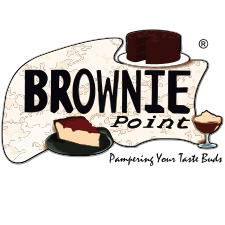 1997 – 2009
The idea of having a dedicated Dessert store on a commercial level was coined by renowned Pastry chef – Manish Khanna after completing his stint with the Taj Hotels. 1997 saw the first Brownie Point store on the busy streets of Mumbai, followed by several new store openings over the next few years taking the number to 14 by 2009.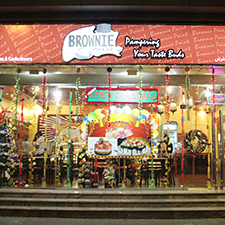 2010 – 2012
Saw the brand's first international leap by opening its first store in UAE in the Karama area of Dubai. Encouraged by a phenomenal response and wide recognition for the product the brand opened a 2nd store in Al Barsha, Dubai.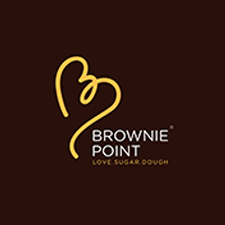 2014 – 2015
The brand underwent a major makeover with a new logo, new identity and a completely new look and feel. The brand's rapid expansion of chain of outlets continued with the 3rd outlet opening in Deira, Dubai.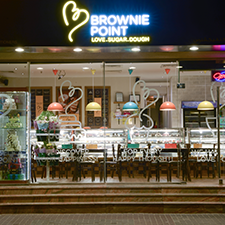 Current
Brand operates a network of 19 stores across 4 major cities in India and 3 stores in UAE taking the total to 22 outlets.